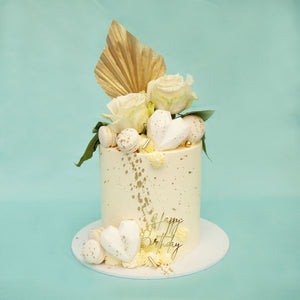 Elegant but not minimal this cake is bound to make a statement! A light and creamy Swiss meringue butter cream icing, topped with white chocolate ganache drips, chocolate hearts, lollies and bars. Finished with handmade Italian meringue macarons, an array of sprinkles and metallic paint flicks. 
Allergens: Gluten, Egg, Dairy, Soya, Nuts. (this will vary based on your flavour choice)
Storage: To ensure maximum freshness store your cake in the fridge. Cake is best enjoyed at room temperature so we recommend removing your butter cream iced cake from the fridge three to four hours before consuming. If you are travelling with this cake please ensure you keep it chilled before and during transit.