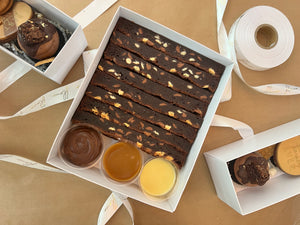 Our classic rich and indulgent chocolate brownie made with melted Belgian chocolate and oodles of Jersey butter. OR Our gooey and chewy white chocolate blondie, topped with a sprinkling of Maldon sea salt to bring the flavours to life. OR even better you can go for the marble option for the perfect mix of the two! 
Our Brownie / Blondie boxes will now come with 3 dips of your choice for everyone who loves to dip and dunk their brownie pieces!
Allergens: Gluten, Egg, Dairy, Nuts, Peanut, Caffeine, Soya.
Storage: To ensure maximum freshness store your cakes in the fridge and consume within 2 days. Enjoy your cakes at room temperature, remove from the fridge an hour before eating.